Skip to Main Content
It looks like you're using Internet Explorer 11 or older. This website works best with modern browsers such as the latest versions of Chrome, Firefox, Safari, and Edge. If you continue with this browser, you may see unexpected results.
Source: Black, S. (2019).
Aboriginal and Torres Strait Islander people are advised that this website may contain images and voices of deceased people.
Britannica Online
South America is made up of many indigenous peoples.
By clicking on the links you will be able to read about some of them.
Choose the level within Britannica to find the article that is just right for you! Some articles may only be at a higher level but you will still be able to read them!
Indigenous people of South America
United Nations, & Berkowitz, D. (2013). Nilson Tuwe Huni Kuĩ [Photograph]. Retrieved from https://www.flickr.com/photos/un_photo/15134820937 /in/album-72157614476504440/
Nilson Tuwe Huni Kuĩ, an indigenous leader from the Western Amazon in Brazil, delivers an invocation.
Daher, J., & United Nations. (1992). Indigenous People: Shavante Indians of Brazil. [Photograph]. Retrieved from https://www.flickr.com/photos/un_photo/3311565095/ in/album-72157614476504440/
Shavante Indians using Buriti sticks to make a fire. Buriti trees grow in the Amazon forest and their wood is used to make baskets too!
Mapuche peoples of Chile

Clicking on this photograph will take you to an article on the Mapuche people
A view of indigenous children from the Embera people, displaced by armed conflict. There are over two million internally displaced persons in Colombia and while forced displacement is always a very difficult experience, it is doubly catastrophic for indigenous communities. Indigenous culture is closely linked to the land and displacement often leads to the total collapse of traditional authority and cultural patterns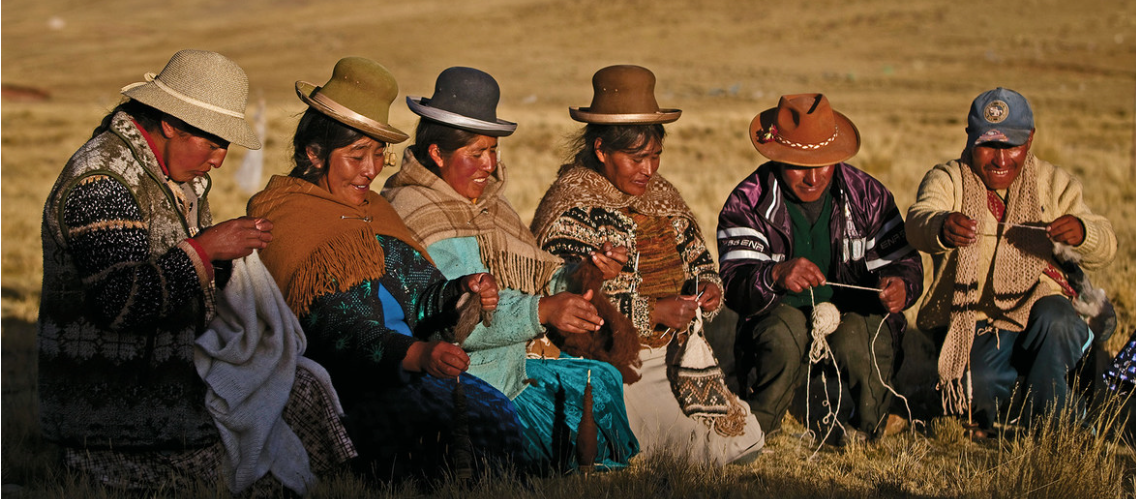 United Nations, & Castro-Mendívil, E. (2018). SGP-GEF-UNDP Peru [Photograph]. Retrieved from https://news.un.org/en/story/2018/08/1016492
Indigenous men and women of Nuñoa in Puno, Peru, spin and weave garments based on the fiber of the alpacas.
Indigenous Understanding South America: Books and eBooks

You will often find information on indigenous peoples when you look at books on the countries in which they live. Use these books and eBooks to get your research started!